Ultraline Drag Hose
Request Info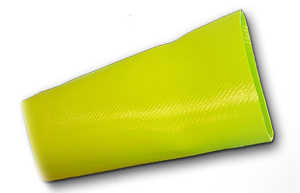 Application
ULTRALINE is a through-the-weave polyurethane (PU) covered drag hose made with 100% high tensile synthetic yarn. For use as a supply hose for liquid manure and sludge injection systems. A thick and smooth cover and strong adhesion between layers ensures for a long life span. For heavy duty service even under the toughest conditions.
Construction
Tube- Smooth pu cover and tube.
Circular woven polyester jacket.
Temperature Range
-60°F to 176°F (-50°C to 80°C)
Standard Lengths
660 ft.
Colour
Visi-Green
| | | | | | | |
| --- | --- | --- | --- | --- | --- | --- |
| Parts No. | I.D. Inches | O.D. Inches | Wall Inches | Approx. Wt. Per. Ft. Lbs. | Tensile Strength | Burst PSI |
| ULTRALINE-5 | 5 | 5.25" | 0.175" | 1.68 lbs. | 58,000 | 500 |
| ULTRALINE-6 | 6 | 6.31 | 0.180 | 1.81 lbs. | 63,000 | 405 |