PVC Food Suction / Discharge - Corrugated
Request Info
Corrugated Cover Clear Helix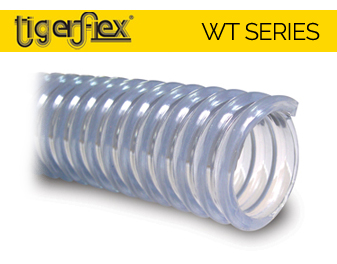 Series:
WT Series
Application
Can be used for any liquids or dry materials for human consumption. Suitable for full vacuum. Complies with all applicable FDA and 3A requirements.
Construction
Tube- Crystal clear PVC compounded from non-toxic ingredients in compliance with applicable FDA requirements.
Reinforcement- Clear PVC Helix for suction applications
Cover- Food grade crystal clear PVC with smooth cover (SF) or corrugated cover (CF)
Temperature Range
-20°C to +70°C (-4°F to +158°F)
Standard Lengths
100ft
Working pressures are calculated at 70 degrees F (20 degrees C). Maximum working pressure decreases as temperature increases. Pressure ratings can only be achieved using proper coupling procedures. Bend radius is calculated at 70 degrees F (20 degrees C). Flexibility may vary at different temperatures. Please contact IRP if you have concerns regarding your application.
| | | | | | |
| --- | --- | --- | --- | --- | --- |
| Parts No. | I.D. Inches | O.D. Inches | Max W.P. @ 70°F/20°C | Bend Radius | Approx. Wt. Per. Ft. Lbs. |
| CF-1 | 1 | 1.30 | 55 | 2 | 0.210 |
| CF-45MM | 45mm | 2.09 | 45 | 4 | 0.440 |
| CF-57MM | 57mm | 2.68 | 40 | 4.5 | 0.640 |
| CF-1.25 | 1-1/4 | 1.60 | 50 | 2 | 0.280 |
| CF-1.5 | 1-1/2 | 1.92 | 50 | 3 | 0.350 |
| CF-2 | 2 | 2.40 | 40 | 4 | 0.560 |
| CF-2.5 | 2-1/2 | 2.74 | 40 | 5 | 0.770 |
| CF-3 | 3 | 3.64 | 40 | 6 | 1.100 |
| CF-4 | 4 | 4.72 | 35 | 10 | 1.800 |
| CF-5 | 5 | 5.74 | 30 | 16 | 2.340 |
| CF-6 | 6 | 6.91 | 30 | 18 | 3.700 |