Bendway Plus
Request Info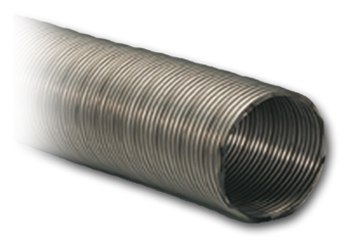 Temperature Range
0°C to +1650°C (+32°F to +3002°F)
Stock Sizes
3"-12"
AvailableSizes
3"-12"
Standard Stock Sizes
3"-8" | 25 ft
9"-12" | 15 ft
Non Standard Lengths
None
Product Information
Durable corrugations allow product to be dragged, bent, & reshaped numerous times without damage or breaking. Suitable for fume & air exhaust applications with extremely high temperatures. Very flexible. Titanium stabilized 316 stainless alloy for superior high temperature corrosion resistance. Suitable for chemical fume exhausting, high temperature, & corrosive applications where both positive & negative pressures are involved. Wall thickness = .006"
Product Applications
Notes
* Pressures based on straight lengths of hose @ 72°F
| | | | | | |
| --- | --- | --- | --- | --- | --- |
| Parts Number | I.D. Inches | Approx Weight | Positive Pressure | Negative Pressure | Centreline Bend Radius |
| B-P-5 | 5 | 0.800 | 13 | 29 | 17 |
| B-P-5.5 | 5-1/2 | 0.850 | 12 | 29 | 19 |
| B-P-6 | 6 | 0.920 | 11 | 29 | 24 |
| B-P-7 | 7 | 1.060 | 9.5 | 29 | 26 |
| B-P-8 | 8 | 1.200 | 8.5 | 29 | 28 |
| B-P-9 | 9 | 1.380 | 8 | 29 | 30 |
| B-P-10 | 10 | 1.550 | 6 | 29 | 32 |
| B-P-11 | 11 | 1.690 | 5.5 | 29 | 34 |
| B-P-12 | 12 | 1.830 | 5 | 29 | 37 |
| B-P-3 | 3 | 0.470 | 18 | 29 | 13 |
| B-P-4 | 4 | 0.640 | 15 | 29 | 15 |