CW-GP DOUBLE PLY NEOPRENE/ POLYESTER
Request Info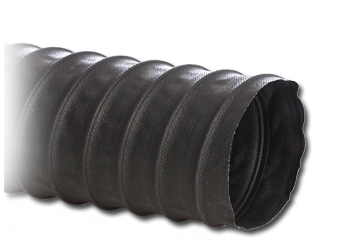 Colour
Black
Temperature Range
-40°C to +121°C (-40°F to +250°F)
Stock Sizes
1"-24"
AvailableSizes
1"-48"
Standard Stock Sizes
25& 50ft
Non Standard Lengths
Multiples of 5ft
Product Information
CW-GP-Double ply neoprene impregnated polyester fabric hose construction, reinforced with a spring steel wire helix. It has excellent crush resistance and tensile strength. The neoprene coating offers excellent abrasion and chemical resistance. Handles positive and negative pressure and is extremely flexible. More durable than double ply cotton hose. CW-GP is UL-94V-0 flame retardant.
Notes
* Pressures based on straight lengths of hose @ 72°F
| | | | | | |
| --- | --- | --- | --- | --- | --- |
| Parts Number | I.D. Inches | Approx Weight | Positive Pressure | Negative Pressure | Centreline Bend Radius |
| CW-GP-2 | 2 | 0.25 | 30 | 29.0 | 2.00 |
| CW-GP-2.5 | 2-1/2 | 0.29 | 30 | 29.0 | 1.80 |
| CW-GP-3 | 3 | 0.34 | 30 | 29.0 | 2.40 |
| CW-GP-3.5 | 3-1/2 | 0.40 | 30 | 29.0 | 2.50 |
| CW-GP-4 | 4 | 0.56 | 30 | 29.0 | 3.10 |
| CW-GP-5 | 5 | 0.75 | 17 | 17.0 | 3.50 |
| CW-GP-6 | 6 | 0.95 | 11 | 21.0 | 4.50 |
| CW-GP-7 | 7 | 0.99 | 8 | 14.0 | 5.00 |
| CW-GP-8 | 8 | 1.10 | 6.5 | 12.0 | 6.00 |
| CW-GP-9 | 9 | 1.20 | 6 | 9.0 | 6.50 |
| CW-GP-10 | 10 | 1.30 | 5 | 9.0 | 7.50 |
| CW-GP-12 | 12 | 1.50 | 4.3 | 4.0 | 8.00 |
| CW-GP-14 | 14 | 2.20 | 3.6 | 3.7 | 10.00 |
| CW-GP-16 | 16 | 2.50 | 3.2 | 2.5 | 12.00 |
| CW-GP-18 | 18 | 2.80 | 3 | 1.8 | 13.00 |