FLX-THANE SD STATIC DISSIPATIVE POLYURETHANE
Request Info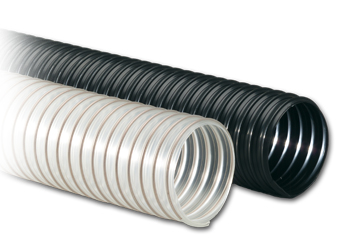 Colour
Black, Clear
Temperature Range
-54°C to +107°C (-65°F to +225°F)
Stock Sizes
None
AvailableSizes
2"-12"
Standard Stock Sizes
None
Non Standard Lengths
Made to order
Product Information
FLX-THANE SD- A durable urethane hose has excellent resistance to abrasion, cutting and gouging. Medium weight ether-type, static dissipative polyurethane wall. Supported by bronze coated spring steel wire helix for crush resistance and efficient flow characteristics. Suitable for chemical fume exhausting, lightweight material handling, and dust collection applications where static electricity is present. Clear is manufactured with FDA acceptable materials. Wall thickness= .030".
Product Applications
FUME
Notes
* Pressures based on straight lengths of hose @ 72°F
| | | | | | |
| --- | --- | --- | --- | --- | --- |
| Parts Number | I.D. Inches | Approx Weight | Positive Pressure | Negative Pressure | Centreline Bend Radius |
| FLX-BSD-2 | 2 | 0.250 | 30 | 29 | 2.00 |
| FLX-BSD-3 | 3 | 0.400 | 29 | 29 | 3.00 |
| FLX-BSD-4 | 4 | 0.700 | 25 | 29 | 4.00 |
| FLX-BSD-6 | 6 | 1.000 | 19 | 15 | 6.00 |
| FLX-BSD-8 | 8 | 1.500 | 14 | 9 | 8.00 |
| FLX-BSD-10 | 10 | 1.600 | 11 | 4 | 8.00 |
| FLX-BSD-12 | 12 | 2.000 | 10 | 2.2 | 10.00 |
| FLX-CSD-2 | 2 | 0.250 | 30 | 29 | 2.00 |
| FLX-CSD-3 | 3 | 0.400 | 29 | 29 | 3.00 |
| FLX-CSD-4 | 4 | 0.700 | 25 | 29 | 4.00 |
| FLX-CSD-6 | 6 | 1.000 | 19 | 15 | 6.00 |
| FLX-CSD-8 | 8 | 1.500 | 14 | 9 | 8.00 |
| FLX-CSD-10 | 10 | 1.600 | 11 | 4 | 8.00 |
| FLX-CSD-12 | 12 | 2.000 | 10 | 2.2 | 10.00 |