FLX-Thane SE
Request Info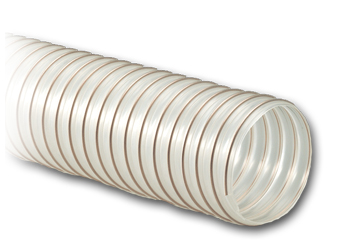 Colour
Clear
Temperature Range
-54°C to +107°C (-65°F to +225°F)
Stock Sizes
2"-24"
AvailableSizes
2"-24"
Standard Stock Sizes
25 ft, 50 ft (14" & above in 25 ft only)
Non Standard Lengths
Made to order
Product Information
Self-extinguishing medium weight clear polyurethane hose reinforced with a bronze coated spring steel wire helix. Halogen-free. Good compressibility. Great abrasion resistance & high tear strength. Superior chemical resistance. Excellent flexibility. Designed for applications with wide temperature ranges. Good low temperature flexibility. Manufactured with flame retardant materials. Wall Thickness = .030" Standard Max. Inside Diameter = 12"
Product Applications
FUME
Notes
* Pressures based on straight lengths of hose @ 72°F
| | | | | | |
| --- | --- | --- | --- | --- | --- |
| Parts Number | I.D. Inches | Approx Weight | Positive Pressure | Negative Pressure | Centreline Bend Radius |
| FLX-SE-2 | 2 | 0.250 | 30 | 29 | 2 |
| FLX-SE-2.5 | 2-1/2 | 0.320 | 30 | 29 | 2.5 |
| FLX-SE-3 | 3 | 0.400 | 29 | 29 | 3 |
| FLX-SE-4 | 4 | 0.700 | 25 | 29 | 4 |
| FLX-SE-5 | 5 | 0.900 | 22 | 17 | 5 |
| FLX-SE-6 | 6 | 1.000 | 19 | 15 | 6 |
| FLX-SE-8 | 8 | 1.500 | 14 | 9 | 8 |
| FLX-SE-10 | 10 | 1.600 | 11 | 4 | 8 |
| FLX-SE-12 | 12 | 2.000 | 10 | 2.2 | 10 |