ACCESSORIES FOR COMMERCIAL POLYETHYLENE COPOLYMER
Request Info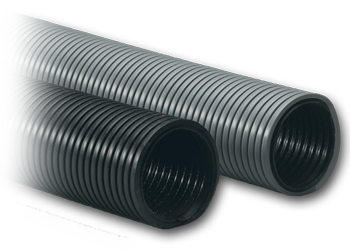 Colour
Grey or Black
Temperature Range
-40°C to +60°C(-40°F to +140°F)
Stock Sizes
1-1/4"-4"
AvailableSizes
1-1/4"-4"
Standard Stock Sizes
25 & 50 ft only
Non Standard Lengths
Made to order
Product Information
COMMERCIAL VACUUM HOSE- Constructed of grey or black polyethylene copolymer hose reinforced with and integral polyethylene helix. The unique design provides exceptional abrasion resistance without sacrificing flexibility. The smooth interior and exterior allows for easy handling, storage and high flow rates.
Product Applications
AIR
FUME
DUST
Notes
* Pressures based on straight lengths of hose @ 72°F
| | | | | | |
| --- | --- | --- | --- | --- | --- |
| Parts Number | I.D. Inches | Approx Weight | Positive Pressure | Negative Pressure | Centreline Bend Radius |
| IH-WWG-1.25 | 1-1/4 | 0.200 | 20 | 29 | 2.40 |
| IH-RX-1.25 | 1-1/4 | 0.200 | 20 | 29 | 2.40 |
| IH-WWG-1.5 | 1-1/2 | 0.280 | 16 | 29 | 2.75 |
| IH-RX-1.5 | 1-1/2 | 0.280 | 16 | 29 | 2.75 |
| IH-WWG-2 | 2 | 0.420 | 15 | 29 | 4.25 |
| IH-RX-2 | 2 | 0.420 | 15 | 29 | 4.25 |
| IH-WWG-2.5 | 2-1/2 | 0.530 | 14 | 29 | 5.00 |
| IH-RX-2.5 | 2-1/2 | 0.530 | 14 | 29 | 5.00 |
| IH-WWG-3 | 3 | 0.650 | 9 | 29 | 7.50 |
| IH-RX-3 | 3 | 0.650 | 9 | 29 | 7.50 |
| IH-WWG-4 | 4 | 1.000 | 8 | 29 | 9.50 |
| IH-RX-4 | 4 | 1.000 | 8 | 29 | 9.50 |
Screw on Standard cuffs
| | |
| --- | --- |
| Parts Number | I.D. Inches |
| IH-GCUFF-1.25 | 1-1/4 |
| IH-GCUFF-1.5 | 1-1/2 |
| IH-GCUFF-2 | 2 |
Screw on nozzle-grey standard
| | |
| --- | --- |
| Parts Number | I.D. Inches |
| IHNOZ-1.5 | 1-1/2 |
| IHNOZ-2 | 2 |