STM
Request Info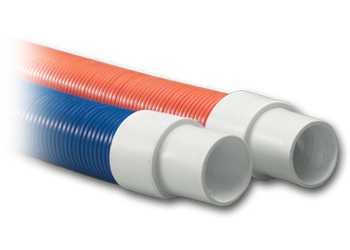 Temperature Range
-40°C to +60°C (-40°F to +140°F)
Stock Sizes
1.5"-2"
AvailableSizes
1.5"-2"
Standard Stock Sizes
25ft, 50ft
Non Standard Lengths
None
Product Information
Orange or blue polyethylene copolymer hose reinforced with an integral polyethylene helix. Double profile I-Helix construction for easy movement on surfaces. Ideal for both truck-mounted & portable carpet cleaning units. Very flexible. Superior abrasion resistance. Crush resistant. Designed to resist corrosion caused by the combination of hot water & chemical concentration of detergents. All sizes handle a full vacuum. Smooth interior assures efficient air flow. Made with factory-installed polyweld cuffs.
Product Applications
AIR
FUME
DUST
Notes
* Pressures based on straight lengths of hose @ 72°F
| | | | | | |
| --- | --- | --- | --- | --- | --- |
| Parts Number | I.D. Inches | Approx Weight | Positive Pressure | Negative Pressure | Centreline Bend Radius |
| IH-TM-1.5X50 | 1-1/2 | 0.290 | 16 | 29 | 2.75 |
| IH-TM-2X50 | 2 | 0.440 | 15 | 29 | 4.25 |