Arctic Duct 3
Request Info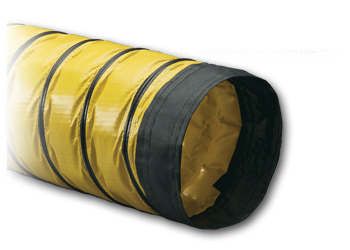 Colour
Yellow
Temperature Range
-29°C to +82°C (-20°F to +180°F)
Stock Sizes
4"-24"
AvailableSizes
4"-24"
Standard Stock Sizes
25ft
Non Standard Lengths
Made to order
Product Information
Two single-ply yellow PVC vinyl coated polyester fabric plies protecting an insulation barrier reinforced with a spring steel wire helix & black external PVC wearstrip. Insulation; 1-inch fiberglass insulation (R-Value=4). Ideal use for both permanent & mobile air conditioning applications. PVC material resists ozone, UV rays, & moisture. Compressibility allows for convenient storage. Wearstrip offers additional external abrasion & drag resistance. Other Arctic Duct constructions available. Manufactured with flame retardant materials. Made with sewn cuff on each end.
Product Applications
FUME
DUST
MATERIAL
Notes
* Pressures based on straight lengths of hose @ 72°F
| | | | | | |
| --- | --- | --- | --- | --- | --- |
| Parts Number | I.D. Inches | Approx Weight | Positive Pressure | Negative Pressure | Centreline Bend Radius |
| S-ARCTIC-6 | 6 | 0.585 | 3.3 | 5.5 | 3.57 |
| S-ARCTIC-8 | 8 | 0.910 | 2.47 | 6 | 4.7 |
| S-ARCTIC-10 | 10 | 1.120 | 1.98 | 3 | 6 |
| S-ARCTIC-12 | 12 | 1.340 | 1.66 | 1.8 | 8 |
| S-ARCTIC-14 | 14 | 1.518 | 1.42 | 1.17 | 8.5 |
| S-ARCTIC-16 | 16 | 1.727 | 1.25 | 0.8 | 9.6 |
| S-ARCTIC-18 | 18 | 1.936 | 1.11 | 0.6 | 11 |
| S-ARCTIC-20 | 20 | 2.145 | 0.85 | 0.4 | 12 |
| S-ARCTIC-24 | 24 | 2.564 | 0.85 | 0.25 | 14 |