EPDM AUTO HEATER
Request Info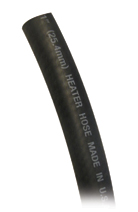 Application
Standard duty heater hose is used for conveying coolant in automobiles, trucks and buses. Long service life since hoses can withstand the abuse of corrosive additives, ozone and abrasion.
Construction
Tube- Black heat and weather resistant EPDM rubber
Reinforcement- Two spiral of synthetic textile
Cover- Black heat resistant EPDM rubber. Resistant to anti-freeze solutions
Temperature Range
-40°C to +93°C (-40°F to +200°F)
Standard Lengths
25ft multiples or 700ft reels
Notes:
Meets SAE 20R3, Class D2 Type
Working pressures are calculated at 70 degrees F (20 degrees C). Maximum working pressure decreases as temperature increases. Pressure ratings can only be achieved using proper coupling procedures. Bend radius is calculated at 70 degrees F (20 degrees C). Flexibility may vary at different temperatures. Please contact IRP if you have concerns regarding your application.
| | | | | | |
| --- | --- | --- | --- | --- | --- |
| Parts No. | I.D. Inches | O.D. Inches | Max W.P. @ 70°F/20°C | Min B.P. PSI | Approx. Wt. Per. Ft. Lbs. |
| AH-.625 | 5/8 | 0.88 | 35 | 140 | 0.22 |
| AH-.75 | 3/4 | 1.03 | 35 | 140 | 0.25 |
| AH-1 | 1 | 1.34 | 25 | 100 | 0.39 |