BULK MAXX - Tan Bulk Material
Request Info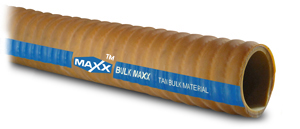 Application
BULK MAXX Tan Bulk Material Handling hose is used in the transfer of dry non-oily abrasive materials such as sand, limestone, plastic pellets, sugar, corn, etc.  Suitable for full vacuum. Made from FDA Certified material.
Construction
Tube - Tan natural rubber smooth abrasion resistant, 3/16" thick
Reinforcement - A high tensile steel helix embedded between textile cords 
Cover - Tan, natural rubber corrugated for flexibility, non marking
Branding - Blue Stripe  BULK MAXX TAN BULK MATERIAL
Temperature Range
-35°C to +82°C (-31°F to +180°F)
Standard Lengths
100ft cut to multiples of 5ft
Working pressures are calculated at 70 degrees F (20 degrees C). Maximum working pressure decreases as temperature increases. Pressure ratings can only be achieved using proper coupling procedures. Bend radius is calculated at 70 degrees F (20 degrees C). Flexibility may vary at different temperatures. Please contact IRP if you have concerns regarding your application.
| | | | | | |
| --- | --- | --- | --- | --- | --- |
| Parts No. | I.D. Inches | O.D. Inches | Max W.P. @ 70°F/20°C | Bend Radius | Approx. Wt. Per. Ft. Lbs. |
| TB-2 | 2 | 2.64 | 75 | 10 | 1.680 |
| TB-2.5 | 2-1/2 | 3.11 | 75 | 14 | 2.240 |
| TB-3 | 3 | 3.66 | 75 | 16 | 2.740 |
| TB-4 | 4 | 4.69 | 75 | 22 | 3.560 |
| TB-5 | 5 | 5.71 | 75 | 32 | 4.560 |
| TB-6 | 6 | 6.73 | 75 | 37 | 5.400 |