CEMENT MAXX-S Bulkmaster Discharge
Request Info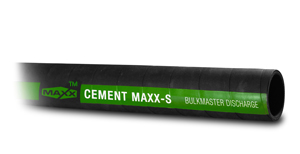 Application
CEMENT MAXX-S is a material handling hose with an abrasion resistant tube and is used for conveying dry bulk products including chalk, china clay, limestone, ground silica, fullers earth, dry cement, sodium sulphate, lime and fertilizer.
Construction
Tube - Black abrasion resistant natural rubber. Available in different gauge
Reinforcement - Spiralled layers of high tensile synthetic cord
Cover- Black abrasion and weather resistant synthetic rubber
Branding - Green Stripe CEMENT MAXX-S BULKMASTER DISCHARGE
Temperature Range
-35°C to +82°C (-31°F to +180°F)
Standard Lengths
100ft cut to multiples of 5ft
Working pressures are calculated at 70 degrees F (20 degrees C). Maximum working pressure decreases as temperature increases. Pressure ratings can only be achieved using proper coupling procedures. Bend radius is calculated at 70 degrees F (20 degrees C). Flexibility may vary at different temperatures. Please contact IRP if you have concerns regarding your application.
| | | | | | |
| --- | --- | --- | --- | --- | --- |
| Parts No. | I.D. Inches | O.D. Inches | Max W.P. @ 70°F/20°C | Tube Gauge MM | Approx. Wt. Per. Ft. Lbs. |
| BMS-3 | 3 | 3.70 | 80 | 3/16 | 1.870 |
| BMS-4-.125 | 4 | 4.54 | 75 | 1/8 | 2.020 |
| BMS-4-.188 | 4 | 4.54 | 75 | 3/16 | 2.200 |
| BMS-4-.25 | 4 | 4.72 | 75 | 1/4 | 2.760 |
| BMS-4-.313 | 4 | 4.69 | 75 | 5/16 | 2.900 |
| BMS-4.5 | 4-1/2 | 5.22 | 75 | 1/4 | 2.970 |