PULLEY LAGGING DIAMOND TOUGH
Request Info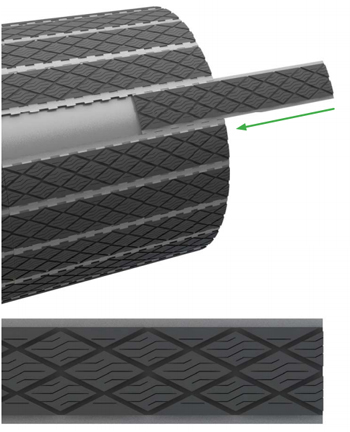 Shipping Weight: 18-1/2 lbs.
Six foot lengths, easily cut "on-the-job" to pulley width. No waste. Short ends can be joined.
Greater belt grip. Twice as many edges on diamond design.
Automatic self cleaning. Excess materials flow out in all directions.
Many molded in "sipes" in each diamond creates high flexibility. Quick release of foreign materials in grooves.
Interchangeable with PPI EZ LAG and Holz lagging.

Retainers
Example:
4 Slide Lag pads ordered = 4double retainers and 1 single retainer required.
14 Slide Lage pads ordered = 14 double retainers and 4 single retainers required (14/4 = 3.5 - round up to 4)

IRP PART #: SL5-SIZE

*Note: Other styles and compounds available on request.

P
U
L
L
E
Y

D
I
A
M
E
T
E
R

I
N
C
H
E
S

USE THIS TABLE TO DETERMINE NUMBER OF SIX FOOT LENGTHS NEEDED TO COVER PULLEY

Part #

PULLEY FACE WIDTH IN INCHES

12
14
16
18
20
22
24
26
30
32
36
38
40
44
46
51
54
60
66
72
SL5-10
1
1
2
2
2
2
2
2
3
3
SL5-12
1
2
2
2
2
2
2
3
3
3
SL5-14
2
2
2
2
2
3
3
3
3
4
SL5-16
2
2
2
2
3
3
3
3
4
4
4
5
5
5
SL5-18
2
2
2
3
3
3
3
4
4
4
5
5
5
6
6
7
SL5-20
2
2
3
3
3
4
4
4
5
5
6
6
6
7
7
8
8
9
SL5-24
2
3
3
3
4
4
4
5
5
6
7
7
7
8
8
9
9
11
11
12
SL5-28
4
4
5
5
6
6
7
7
8
8
9
9
10
13
13
13
14
SL5-30
5
5
5
6
7
7
8
8
9
10
10
11
12
14
14
15
SL5-36
7
7
8
8
9
10
10
11
12
13
14
15
17
18
SL5-42
8
9
10
11
12
12
13
13
15
16
18
20
21
SL5-48
9
10
11
12
13
14
15
16
17
18
20
22
24
SL5-54
12
12
14
15
15
17
18
20
21
23
25
27
SL5-60
13
14
15
16
17
19
20
22
23
25
28
30
NOTE: Style 5 - For general duty service.

FOR SIZES NOT LISTED

.1. Divide Pulley DIA. by 2
2. Multiply X Pulley face
3. Divide by 72
4. Order next higher multiple of 72