Switchboard Matting
Request Info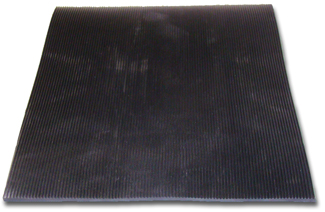 ASTM D178 Switchboard Matting products are tested and certified to the most rigorous industry standards.  Every roll is proof tested at the specified voltage, over the entire surface of the matting.  Single piece rolls are guaranteed.
This insulating matting is engineered to protect workers against electrical shock when working around high voltage applications within product specifications.
Recommended for:
Distribution Boards
Switchgear
Sub-stations
Transformers
Generators
Electrical Workbenches
Type II, Class 2: (1/4" thickness)
Dielectric Test Voltage:  30,000 VAC
Proof Tested Over Entire Surface:  20,000 VAC
Recommended Maximum Use Voltage:  17,000VAC
Type II is defined as:
Any elastomer of combination of elastomeric compounds with the following specials properties: Ozone resistance, Flame resistance, and Oil resistance.
Available Patterns: Corrugated
Physical Characteristics:
Tensile:  1100 PSI
Hardness:  85 SHORE "A" ± 5
| | | | | | |
| --- | --- | --- | --- | --- | --- |
| Parts No. | Gauge x Width | Length | Wt Per LY | Colour | Ribbed |
| SM-.25-36 | 1/4" x 36" | 25YDS | 20.1 | Black | Fine |